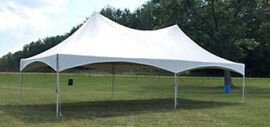 20x30 Frame Tent




$500.00

Please call 517-883-1428 to reserve this item

We carry several high quality tents perfect for any party or event from birthday parties, to graduations, to formal events such as galas or weddings. Forget about the dirty, old tents some of our competitors still charge top-dollar for. At PARTY DADDY RENTALS, all of our tents are less than two years old because we believe in only the best quality for our customers. Whether you are planning an event big, or small, we've got you covered!

We have two types of tents, pole tents and frame tents.
Pole tents require several stakes be used to secure the tent. These stakes are, of course, included in the price, however we do need to sink the stakes approximately 20" into the ground. Grassy or soft soil areas away from underground pipes and wires are required for pole tent setups.
Frame tents can be setup anywhere, including in a parking lot and don't require stakes to secure the tent but instead our secured by barrels filled with water.
All of our tent prices include local delivery and set-up.
Slide, Inflatable Slide, Boun
GENERAL SIZING FOR OUR TENTS, TABLES, & CHAIRS
20x20 Tents: Fits roughly 6 tables & 48 chairs
20x30 Tents: Fits roughly 8 tables & 64 chairs
20x40 Tents: Fits roughly 12 tables & 96 chairs
15x20 Tents: Fits roughly 4-5 tables & 30 chairs
15x30 Tents: Fits roughly 6-8 tables & 40 chairs
ce House, Inflatables, Lansing, Mason, Dewitt, Okemos, East Lansing, Leslie, Dansville, Tents, Tables, Chairs, Backyard Party, Rentals, Party Daddy Rentals, Tye-Dye Rentals, Tents, Tent rentals, wedding tents, open house tent.